Refrigerated Vans: The Past, Present and Future
Here at Cool Running Rental we specialise in providing temperature controlled vehicles for hire to specialist services that need them. Many people fail to realise the importance that refrigerated vehicles hold in today's world, and many more people are unaware that the technology is actually older than you might think!
So why is mobile refrigeration important? Well, without it many of the simple things we enjoy in life wouldn't be possible. For instance the mass transport of perishable foods from one place to another, the key factor in the success of Supermarkets, would be impossible without the help of refrigerated vehicles! Another key role that refrigerated vans perform is transporting vital medical supplies such as blood and vaccines through the cold supply chain to hospitals and other places where they are desperately needed. Refrigerated vans haven't just made our lives easier, you could say they also save lives.
But where did modern refrigerated transport start? With one, very talented man.
Frederick McKinley Jones – The "King of Cool", and the father of modern mobile refrigeration.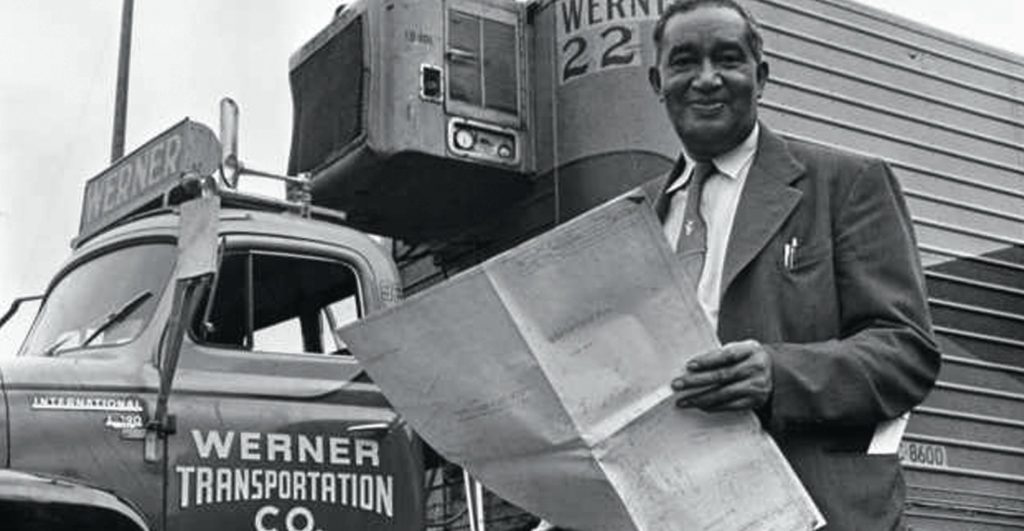 Frederick McKinley Jones was a remarkable man, who battled a difficult upbringing and eventually became one of the great success stories of 20th Century America. 
Early Life
He was born in May of 1893 to parents of different races in Cincinnati Ohio, and it wasn't long before his childhood had taken him down a difficult path. Jones' mother had abandoned him and his father, and by the age of 7 Jones had been sent to live with a Catholic Priest in Kentucky, after his aging father could no longer care for him. Little is known about these years in Jones' life, apart from that his father died just 2 years after sending him away. Another year later, at the young age of 11, Jones decided to run away from Kentucky, and seek work in his hometown of Cincinnati.
Upon arriving back in the Ohio city, Jones managed to get by doing a variety of odd jobs and piecing together a wage. One of these jobs however, would be the making of Frederick McKinley Jones. He had began work as a cleaner in an automotive garage, sweeping floors and tidying tools, and over time developing a keen interest in the mechanics of motorcars. This budding passion grew, and Jones spent several years working at the garage, steadily moving from janitor to apprentice, and eventually from apprentice to foreman. He had mastered the trade of vehicle mechanic by the age of 19, and had set himself up for greatness.
Pre-War
In 1912 Jones decided to leave the Cincinnati garage that had been his home for the better part of a decade, and set out to find work elsewhere, eventually landing at a farm in Hallock Minnesota. Here his job was to fix and maintain the farm's vehicles, and this was also an opportunity for him to expand his knowledge of other technologies and machinery. During his time in Hallock, America joined the First World War, and as a young male Jones was drafted to go and serve on the European continent. Jones' service was no detriment to his learning though, as he was employed to make repairs to a wide variety of machines and other equipment.
Post War
After the war, Jones returned to the farm in Hallock and continued to learn as much as he could, this time in the field of electronics. His experience in the war had no doubt aided his learning, and before long he was embarking on a very large project. The town of Hallock had decided to fund a new radio station and they needed an engineer to fabricate the transmitter needed for the station. Naturally Jones took to the challenge like a fish to water and before long the new Hallock radio station was operating successfully, relying every day on the remarkable talent of a man with no formal education. This new-found skill for electronics brought Jones onto the radar of a man called Joseph Numero, a leading name in the Cinema industry whose company made filming equipment. Numero hired Jones to improve the sound equipment made by Cinema Supplies Inc., based upon a device Jones had created on the farm in Hallock that could combine sound with motion pictures and revolutionised the cinema industry.
This friendship with Numero would soon turn into Jones' greatest success. In 1938 Jones invented the first truly portable air cooling unit that was designed for vans (where all the predecessors had been mounted on trains due to their size). Originally designed for businesses transporting perishable foods, Jones' units gathered success quickly as they allowed small shops to sell their wares much further-a-field, as opposed to before where they had only been able to service their immediate localities. Following the successes of Jones' invention, his friend Numero decided to sell Cinema Supplies Inc., and together they partnered a new company: the US Thermo Control Company, which later went on to become the Thermoking that we still use today!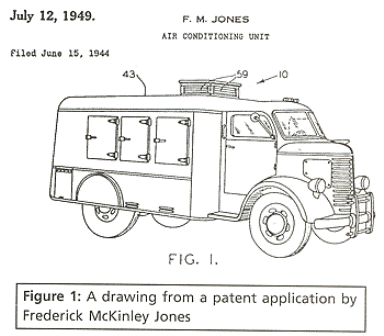 World War 2
Like many other technology companies, the Thermo Control Company (TCC) found themselves benefitting from the necessities of war. With the outbreak of conflict in Europe, Africa and Southeast Asia the Army's needs for rations, both food and medical, grew at an alarming rate. Jones and Numero were well suited to this growing need, as their vans could preserve supplies and take them further to the Army's hospitals, or right onto the front line. Specialist logistics units sprang up across the Army, including the aptly nicknamed "Penguin Fleet", whose job it was to transport blood, medicine and food to ensure that the fighting lines were well provisioned, and the wounded received the treatment they needed. This vital service that TCC's refrigerated vans were serving was well compensated, and by 1949 TCC had grown to be worth $3million, a mighty sum equivalent to 10 times that number today!
How have modern vans changed?
In truth, modern refrigerated vans haven't changed their core mechanics much since Frederick McKinley Jones' pioneered the technology. The units have become smaller and more efficient, and the insulation of the vans has become more effective, but the core concept remains the same! (Click here to find out how refrigerated vans actually work).
The major modernisation in refrigerated vans has come in the vehicles that they are based on! As time has progressed, the trusty "white van" has become more and more accessible to smaller businesses, and with them the refrigerated conversions. Commercial suppliers like Mercedes and Volkswagen have helped to create an industry aimed solely at providing transport for these small to medium sized companies, and combined with the modern Thermoking refrigeration units the transport of perishable goods has never been easier.
Where is the future of refrigerated vehicles headed?
With the advancements in electric vehicles, it is no surprise to see that refrigerated vans aren't far behind the curve. Nissan have already released their e-NV200 which can be readily converted, and we're very excited to see what can be done with Mercedes' eVito, as we have already used the traditional engine Vito to great effect!
There is already a strong need for small and agile "last mile" delivery solutions that are better for the environment, and here at Cool Running Rental we are looking forward to the developments in the industry that will allow us to provide this service to those who transport perishable goods.If you think you need to hire a refrigerated vehicle for a flexible term then you should contact Cool Running Rental today. We are a national provider of refrigerated vehicles perfect for small, medium and large jobs and available for a term that suits you! Click here to find out more!