More and more businesses across the UK are returning to some form of normality as the COVID 19 lockdown begins to unwind and allow trade to resume. Many industries are now having to adapt to new ways of working in order to keep both their staff and their customers as safe as can be. One of the worst affected industries has been the Catering industry, who have been unable to provide their services whilst events have been either cancelled or put on hold throughout the lockdown, but as life begins to turn back towards a more normal direction, this is set to change.
With the lifting of lockdown comes a myriad of new rules and regulations for the Catering industry, so today we're going to take a look into the advice offered by the Government and hopefully provide some clarity to those businesses who are desperate to resume trading in a safe and legal manner.
Assessing and managing the risks of COVID 19
Before resuming trading it is vitally important that catering operators update their risk assessments within the contexts of COVID 19. This means taking the time to make a detailed analysis of potential ingress points for the virus, how it might be transmitted between staff and/or customers and how it could spread from within your workplace to the wider population.
Failure to complete a risk assessment that encompassess COVID 19 could mean that you are breaking Health and Safety law, and in serious cases can be considered a criminal offence.
To make sure that your new risk assessment is airtight employers and employees should come together to discuss the risks they have identified and how to mitigate them. Everyone in a business sees the same scenario but from a multitude of different angles. Someone in a customer facing role will experience different risks to someone high up in the managerial chain. For this reason the most effective risk assessments will be those written in a collaborative manner.
To help with these assessments, the Government has laid out 6 simple steps that all catering businesses should consider:
Ensure that all workers and customers who feel unwell stay at home and do not attend the event or venue.

Ensure that handwashing and surface cleaning happens more regularly than "normal".

Employees may return to work as long as their workplace is made COVID safe and social distancing can be adhered to. Those who are at a higher vulnerability may return to work if it is safe to do so, however they are advised to continue working from home where possible.

All activities performed by staff and customers should be assessed to see if they need to be redesigned with measures to mean that the 2m social distancing can be continued. These measures might include increased handwashing, using screens or barriers between staff and/or customers or breaking the workforce down into small bubbles to prevent widespread transmission of the virus.

Activities where social distancing is simply impossible to follow in full should either be redesigned or assessed as to whether they need happen at all in order to run the business. If they cannot be stopped, then measures should be put in place to prevent the transmission of COVID between staff and customers.

Finally, if there are activities that mean your staff or customers have to spend long periods of time face to face with one another then they should be considered for being stopped, as no one is obliged to work in an unsafe environment.
These guidelines are the basis that all caterers should consider when creating their new risk assessments, and if followed will allow a good level of safety from which to build on.
Maintaining a safe distance
So far we have discussed the new COVID safety measures in a more generic sense, but how does it relate to catering businesses attending events both indoors and outdoors? One of the biggest challenges caterers and event managers will face is maintaining the mandated 2m social distancing protocol. This is one of the most important aspects to consider as stopping the spread of the virus is what will eventually lead to catering businesses recovering from the effects of lockdown.
There are many steps to take to achieve this, and each location will have its own unique challenges to overcome, but these are some helpful tips to guide you through maximising your customer and staff safety:
Calculate the maximum number of people allowed in a space while maintaining social distancing.



While this responsibility won't always fall strictly on a catering supplier, you should still do your due diligence for the protection of your staff. The event manager might not have factored your staff members into their calculations and so it's best practise to include it in your own risk assessment.





When making these calculations it is also important to consider if the event is being held indoors or outdoors, and are there any confined spaces or choke points present. These will need additional assessment to be made safe.
Reconfigure indoor and outdoor seating to maintain 2m distances between customers both individually and in bubbles.
Managing where your customers sit is key for maintaining social distancing at events, as this is where they will spend the majority of their time. As caterers you should be considering having some tables set up for individuals or pairs, and others for larger parties, all with at least 2m between them. You should also consider the routes your staff will have to take when servicing these tables and give them at least enough room to pass between customers at a safe distance, with sensible passing points to avoid 2 members of staff coming into face to face contact.



While this will undoubtedly be easier in an outdoor environment, it is even more important indoors.
Thoroughly plan your queueing, or avoid it where at all possible.

If you are catering an event using stalls for food and drink etc, then it is important that you plan out the space for customers to queue, or do your best to avoid it altogether. This means having a marked out area for patrons to queue, with markers every 2m to show where to stand, and a limit put on how many people can queue at any one time.

A good way to avoid queueing is by way of a simple number system, where a customer takes a number and "queues" at their table/ in an open area. This does away with the need for an actual line and so makes crowding far less likely.

Should your event spill out into public spaces it is important that any queueing does not affect the local public. While this responsibility would normally lie with the event manager it is still worth the caterers having a plan in mind to prevent it.

Ensure that all of your customers are aware of and adhering to the COVID guidelines.

This can be as simple as reminding your customers at booking and upon arrival to observe the social distancing measures that you have put in place. This also applies to families or parties with children, who must be responsible for them at all times to prevent them crossing between bubbles, or simply getting in the way of your staff!

You should also ensure the protection of your staff by providing hand sanitiser or handwashing facilities wherever your customers might come into contact with them, and encouraging them to use them regularly. This will help to slow any transmission of the virus.
Keep serving safe
As serving food and drink is the heart of the catering business, it's important that you carry it out in a safe manner. With the steps previously mentioned in place your staff should be properly distanced from any customers which is a large part of the battle against COVID 19. There are however a few more things you can do to stay as safe as possible.
Your aim should be to remove as much "self service" from your catering as possible, as this will undoubtedly lead to multiple people touching a small number of objects and potentially transmitting the virus. Firstly, encourage your customers to sit at their tables as much as possible. This will prevent them from touching or leaning on any other surfaces that will be hard for you to track and clean.
Secondly, only provide them with cutlery and condiments after their food has been served. This will prevent anyone from picking up their cutlery, deciding against having food, and putting the cutlery back down, potentially leaving the virus lying in wait for the next person to pick up the seemingly clean implements.
Your condiments also require some attention, as never before has the tomato ketchup been so dangerous! Passing the sauces around from person to person is a huge risk factor, as each touch of the bottle could be a new transmission. To avoid this we suggest using only disposable condiment packets, or at least keeping reusable bottles within social bubbles and thoroughly cleaning them before letting another party use them.
Foolproofing your food preparation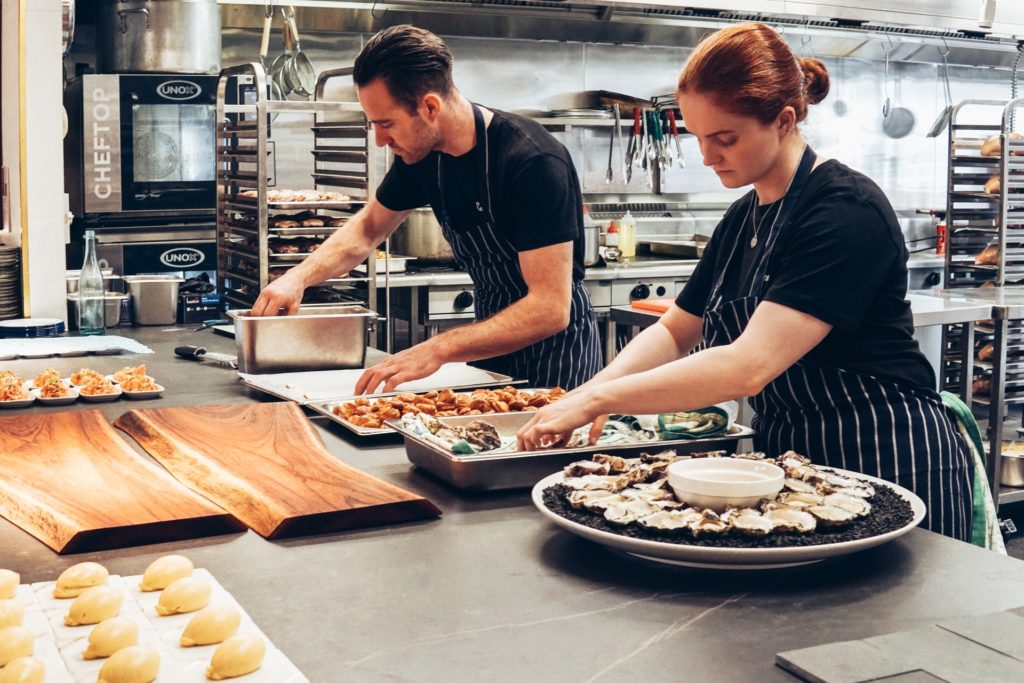 Food preparation should already be the most hygienic area of a catering operation, but now there is more emphasis on this than ever. COVID 19 is joining the list of viruses and bacteria that can be transmitted via your food, and so keeping it away should be your top priority.
The simplest way to do this is to limit the number of people permitted to enter the food preparation area. In doing this, you limit the number of people who could potentially transmit the virus to the food being prepared, and also allow your chefs to form their own small bubble as they will undoubtedly have to work in close proximity to each other.
Wherever possible however, your kitchen staff should still be practising the 2m social distancing. To help them, try zoning your kitchen into workspaces for each individual and have them perform the duties within their own zones only where possible. This is a concept that many chefs will undoubtedly oppose, but we are living in new times and so new procedures must be adopted.
Keep a clean house
This should come as no surprise, but keeping your venue clean has never been more important. To ensure the safety of your customers and staff a heightened cleaning regime must be employed, with surfaces and touch points being thoroughly cleaned at more regular intervals. You should also be making extra provisions of bins for items like gloves and facemasks, to make disposing of them easier for your staff.
As a way of keeping the spiralling cleaning needs under control, try removing as many touch points as possible within your venue. This could mean wedging doors open, making fixed payment stations, or even having carts to take items from one place to another without the person moving them having to touch them.
Take control of what you bring in
Even with all of the above in place, there is still the ever-present risk of COVID 19 being introduced to your workplace by the goods you have delivered to you. You have no control over the supply chain, and so do not have a way to ensure the food and drink you buy in is completely safe. 
To fix this, why not take the deliveries into your own hands, and take a step out of the supply chain where COVID might be introduced? Refrigerated van hire has become a popular way for many businesses to skirt the risks of using 3rd party delivery services and take control of their produce themselves. Flexible leasing options and a wide array of available vehicles makes hiring the perfect way for caterers to ensure that the safety of their staff and customers is not put at risk by someone outside of your control.
If you would like help renting your own refrigerated van then get in touch with Cool Running Rental today! Our fleet of vans are all fully serviced and thoroughly cleaned after each lease. Our flexible rental agreements and nationwide service mean that everyone can find the van they need in our fleet.
---
Sources: https://www.gov.uk/guidance/working-safely-during-coronavirus-covid-19/restaurants-offering-takeaway-or-delivery#takeaways-4-4