So, you're interested in learning more about refrigerated vans and are potentially looking to make a purchase or hire one?
You've found yourself in the right place.
Here at Cool Running Rental we specialise in refrigerated van hire and below you will find an extensive list of frequently asked questions to help you get a grip on what these vehicles are all about, and how they work.
What is a refrigerated van
A refrigerated van is a vehicle designed to carry perishable goods at specific temperatures. They are often equipped with a mechanical refrigeration system that operates from a power source external from the vehicle engine, or one that makes use of carbon dioxide as a cooling agent.
Refrigerated vans were first used successfully as far back as 1925 and, as you may expect, they were first utilised to bring benefit to the ice cream industry. Fast forward to 2019 and studies show there are well over 4,000,0000 refrigerated vehicles on the road, spanning in size from small vans for hire up to HGV lorries for the transportation of bulk goods.
How do refrigerated vans work?
Think of refrigerated vans like a household fridge on wheels.
The first thing you need to understand is that 'cold' isn't something that can be created. Cold, in simple terms, is a lack of heat. So refrigerated vans work to remove heat from the storage facility thus lowering the temperature and creating a self-contained atmosphere.
That's why every van is fitted with a condenser, one of three vital components. The condenser has a coil inside with a network of tubes and fins. Fans pass air over the condenser coil which houses the refrigerant tubes, and inside the tubes this hot gas condenses into a liquid refrigerant. The excess heat is dissipated to the atmosphere while the cooled liquid refrigerant passes to the evaporator and the compressor.
At the compressor, the gas is compressed down to an extremely high pressure. Taking the low-pressure refrigerant gas and converting it allows for the recycling of coolant gas and further dissipation of the heat into the atmosphere.
The evaporator is a series of tubes and fins not too dissimilar to the condenser, and it works with the refrigerant to evaporate it at incredibly low temperatures, converting it back to a liquid refrigerant and continuing the cycle.
What temperature can be attained?
Commonly, fridge van temperature settings have a range between 0℃ to 8℃ while a freezer van is more or less consistently at around -18℃.

There are three classes:
Class A: Refrigerated vans equipped with a cooling system that allows the user to set a storage temperature between +12°C and 0°C inclusive.
Class B: Refrigerated vans equipped with a cooling system that allows the user to set a storage temperature between +12°C and -10°C inclusive.
Class C: Refrigerated vans equipped with a cooling system that allows the user to set a storage temperature between +12°C and -20°C inclusive.
Are there different types of refrigerated vehicles, and how do I know which one to choose?
There are a wide variety of refrigerated vehicles for heavy goods purposes but we are specialists in refrigerated van hire.
There are four different types of refrigerated van:

Insulation-only van

Chiller conversion van

Semi-freezer conversion van

Full-freezer conversion van



'Conversion types' are, essentially, regular vans converted into refrigerated vans to serve a new purpose. Here's a bit more about each type.
Insulation-only van
Insulation-only vans are commonly used by businesses transporting non-perishable goods. This gives more leeway, as insulation-only vans are just that – a lining of 50mm thick insulation.
The lack of refrigeration makes this type of refrigerated van useless for transporting perishable goods such as food or specific medicines.
Chiller conversion van
Chiller conversion vans are fitted with the same 50mm thick insulation lining on top of a chill refrigerator, helping them to achieve temperatures as low as 0°C through to 8°C. This makes them the most popular choice amongst a wide variety of business types.
Semi-freezer conversion van
If you're looking to transport frozen goods then the standard chiller conversion van won't cut the mustard, you need a vehicle with the ability to reach lower temperatures.
Semi-freezer conversion vans are fitted with thicker, 75mm insulation in the cargo area. This allows them to maintain a constant temperature as low as 15°C.
Full-freezer conversion van
Finally, full-freezer conversion vans combine the 75mm insulation typical of a semi-freezer van with a reverse cycle or hot gas defrost mechanism. These vehicles are also built with reinforced side and rear doors for greater temperature retention at depths of up to 20°C.
How thick is the insulation, and what is it made of?
Insulation thickness ranges, as explained above.
The most common insulation thickness type is 50mm but other refrigerated vans, that are designed to maintain colder temperatures, can boast insulation as thick as 100mm.
The insulation is made from an extremely high-density polymer foam. There are millions of microscopic air bubbles inside the material making it an effective insulation solution.
❓ How do refrigerated vans work?
❓ How are they powered?
❓ What businesses use them the most?

Learn all of this and more, here: https://t.co/JLYYUGj1L6 pic.twitter.com/TfMxO70x4F

— Cool Running Rental (@CoolRunningUK) June 14, 2019
Do refrigerated vans have an overnight standby function?
Those looking to keep their goods stored overnight can make use of an electric standby add-on. This can also be a useful feature to have if schedules change unexpectedly and a delivery is hit by a delay.
Electric standby refrigeration utilises an external power source to maintain the temperature inside the storage unit, or to pre-cool the storage unit prior to loading the goods for transportation. This can reduce the energy used by the vehicle to generate the desired temperature, and is an environmentally friendly method of doing so.
What types of businesses use them?
A wide variety of business types use refrigerated vans, and they do so for a wide variety of reasons. Here are some of the common industries we work with.
Ice cream vendors
Ice cream needs deep-freezing capabilities and as such, full freezer conversion vans are commonly used to transport stock around.
Florists
To keep flowers fresh during transportation they should be strictly chilled between 5°C and 7°C. When dealing with a product that has a short life-span as it is, these things matter immensely.
Pharmaceuticals
As you can imagine, the transportation of medicine and pharmaceutical products is incredibly important and the conditions need to be right or the cost could be great. Backup power systems are required by law for all vehicles transporting medicine.
Meat, fish, dairy and poultry
The optimum temperature differs between food products but there are strict guidelines for each, lest the good perish and become unfit for purchase or consumption. You can learn more about this here.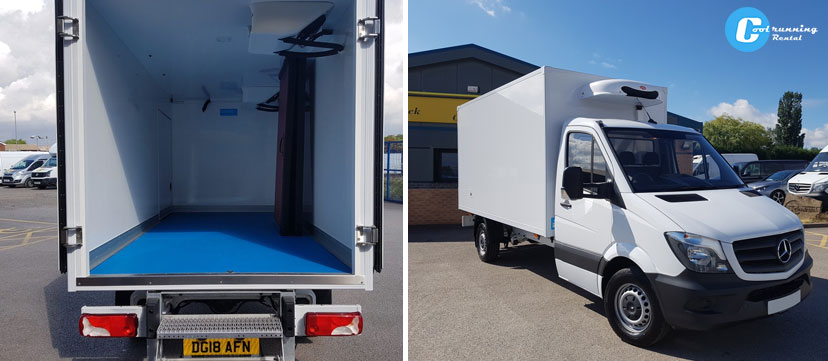 How do I look after my refrigerated van?
Routine tune ups, regular MOT inspection and frequent deep cleans are just some of the ways you can keep your refrigerated van working perfectly?
Learn more in our blog post: Top tips for maintaining your refrigerated van
Can refrigerated vans tow a trailer?
In the majority of cases, yes. Most refrigerated vans are fitted with a tow bar to assist you in towing additional goods. Just ask when you're enquiring to make sure.
Should I purchase or hire a refrigerated van?
It entirely depends on how much use you will get out of the vehicle. Hiring a refrigerated van gives small businesses the flexibility to use the features as and when they are needed, as opposed to investing into a vehicle that finds itself sat in the car park for the majority of the time.
Hiring a refrigerated van will give you the following perks:
Flexible contracts, pick up & collection times

A range of small, medium and large vans

A variety of different temperature specifications depending on your requirements

All vehicles are late model, fully valeted & serviced

All vehicles come with breakdown cover

Engineers at the end of the phone 24/7, 365 days a year should you encounter a problem during your rental period
For more information on refrigerated vans from Cool Running Rental, or to get a free tailored quote, simply contact us here and we'll be happy to help.