So, you've decided that your business could benefit from getting a refrigerated van?
That's the easy bit done, and now you have the task of choosing the right one for you. If you've not looked into it too much yet, then you might not be aware that there are a lot of different types of refrigerated vans to choose from.
Whether you're a florist, a pharmaceutical company or running a catering business, hiring or purchasing a refrigerated van can have great benefits for your business, helping you to expand your reach and ultimately attract new customers, making more sales.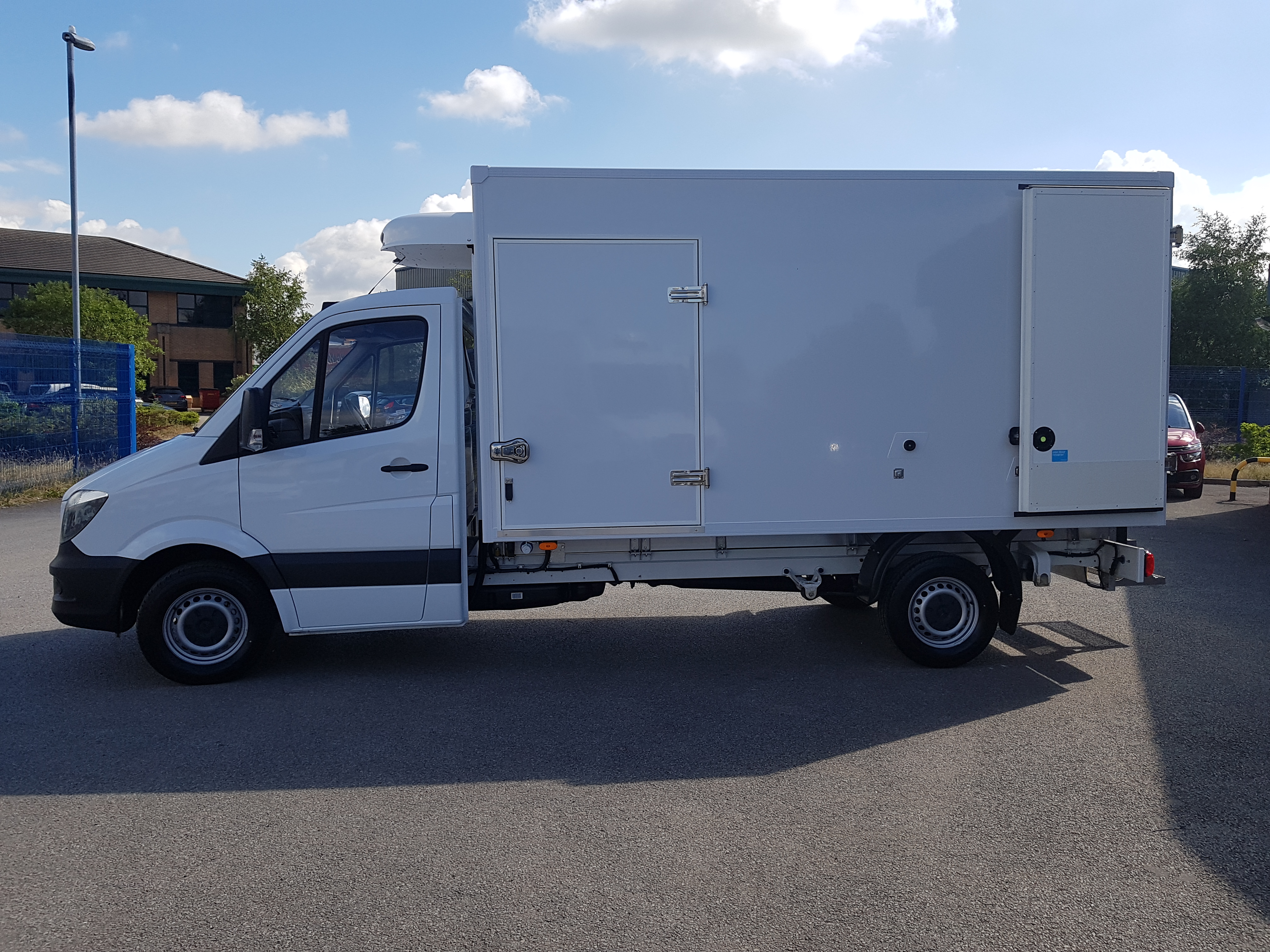 However, it can be daunting to try and work out exactly what you need, and which one will be the most cost efficient for your business. It's an important decision to make, and choosing the wrong van can be a costly mistake. So, we're here to give you the run down on the different types of refrigerated vans available, to help figure out which one is best suited to your requirements.
Here are a few questions that you should ask yourself before looking into the vehicles…
1. What temperature do your goods need to be transported at?
This is probably the single most important question to start off with, as different vans have the capability of maintaining different temperatures. Here's a breakdown of some of the most popular industries and what temperature their produce needs to be stored at:
Flowers – To maintain the quality of fresh flowers during transportation, it's important to keep them at a chilled temperature range of 5°C to 7°C, nothing more and nothing less to ensure their short life-span is maximised to its full potential.
Catering – The temperature of catering goods, whether hot or cold, during transportation will depend entirely on the produce itself. Typically, catering businesses usually opt for a dual temperature vehicle which features both an ambient section and a chilled section divided by a built-in bulkhead, in order to transport both hot and cold goods together. This type of vehicle is usually quite flexible to your needs, and some provide movable bulkheads to allow the driver to adjust the compartment sizes if necessary.
Drinks – In order to keep drinks nice and cool during deliveries, they should be kept within a temperature range of 0°C to 8°C. With this type of delivery, it's also important to consider the payload of the vehicle, due to the heavy weight of liquids being transported.
Ice Cream – When transporting frozen goods such as ice cream, you're looking for a vehicle capable of freezing to a minimum of -18°C, with some being able to deep-freeze to as low as -25°C.
Pharmaceuticals – When transporting medicines it is absolutely vital that they are stored hygienically at a constant, cool temperature to avoid them spoiling and deemed unsafe to administer. Typically, a van with various compartments able to operate numerous temperatures and emergency back-up power is required. Here at Cool Running Rental, we have a vast experience of working with Pharmaceutical companies in their transportation, and are our experts are happy to offer bespoke options to design the perfect refrigerated van for your needs.
Meat, Fish, Dairy & Poultry – There's a range of strict temperatures in which these goods should be transported, although a dual compartment vehicle is likely to be required to obtain each temperature and ensure there is no cross-contamination. You can find the recommended temperatures for transporting dairy, fish, meat and other products here.
2. Do you need a chiller van or freezer van?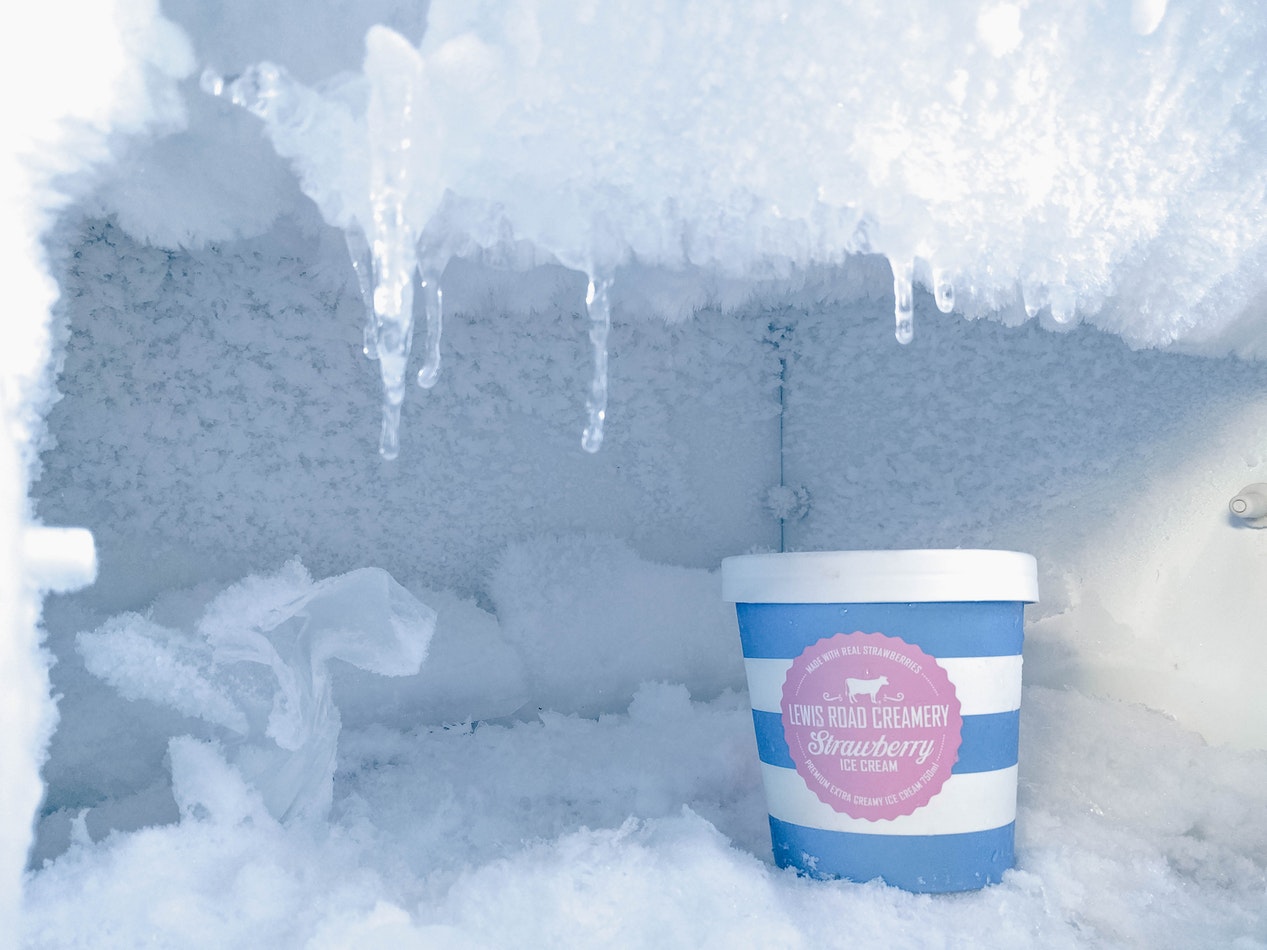 Once you know what goods you'll be transporting, and what temperatures they need to be transported at, you'll know whether you need a chiller van or freezer van. If you'll be transporting both frozen and chilled goods, there's no need to buy two separate vans – as there are some vehicles with dual compartments capable of both chilling and freezing at the same time.
3. Does the van need to be able to defrost the goods?
To allow safe and easy defrosting, most vans will defrost on a timed basis if required, and others are installed with kits to maintain constant temperatures if the automatic defrosting system is not needed.
4. Will the goods be kept in the van overnight?
All of our fridge and freezer vans are fitted with electrical standby, to ensure that goods are kept at a constant temperature should they need to be kept in the van overnight. This works without the need to keep the engine running over night, making it a great cost-effective solution for businesses needing their goods to be kept cool or frozen for long periods of time.
The different types of refrigerated van
Primarily, there are four different types of refrigerated van:
Insulation-only van
Chiller conversion van
Semi-freezer conversion van
Full-freezer conversion van
These are known as conversion types, as they are converted into refrigerated vans from regular vans with the use of different materials.
These different materials and methods are what make the four primary types of refrigerated van different to one another. Let's take a look at them…
Insulation-only van
Insulation-only vans may be preferable for businesses transporting produce non-perishable goods, as typically the cargo area is just lined with thick insulation – usually 50mm of styfofroam (generally the best) or sometimes, a polystyrene blend.
Due to the lack of a refrigeration, these are generally a no-go for those transporting food that requires chilling, unless you were to have a fridge fitted to the load area to achieve such temperatures.
Chiller conversion van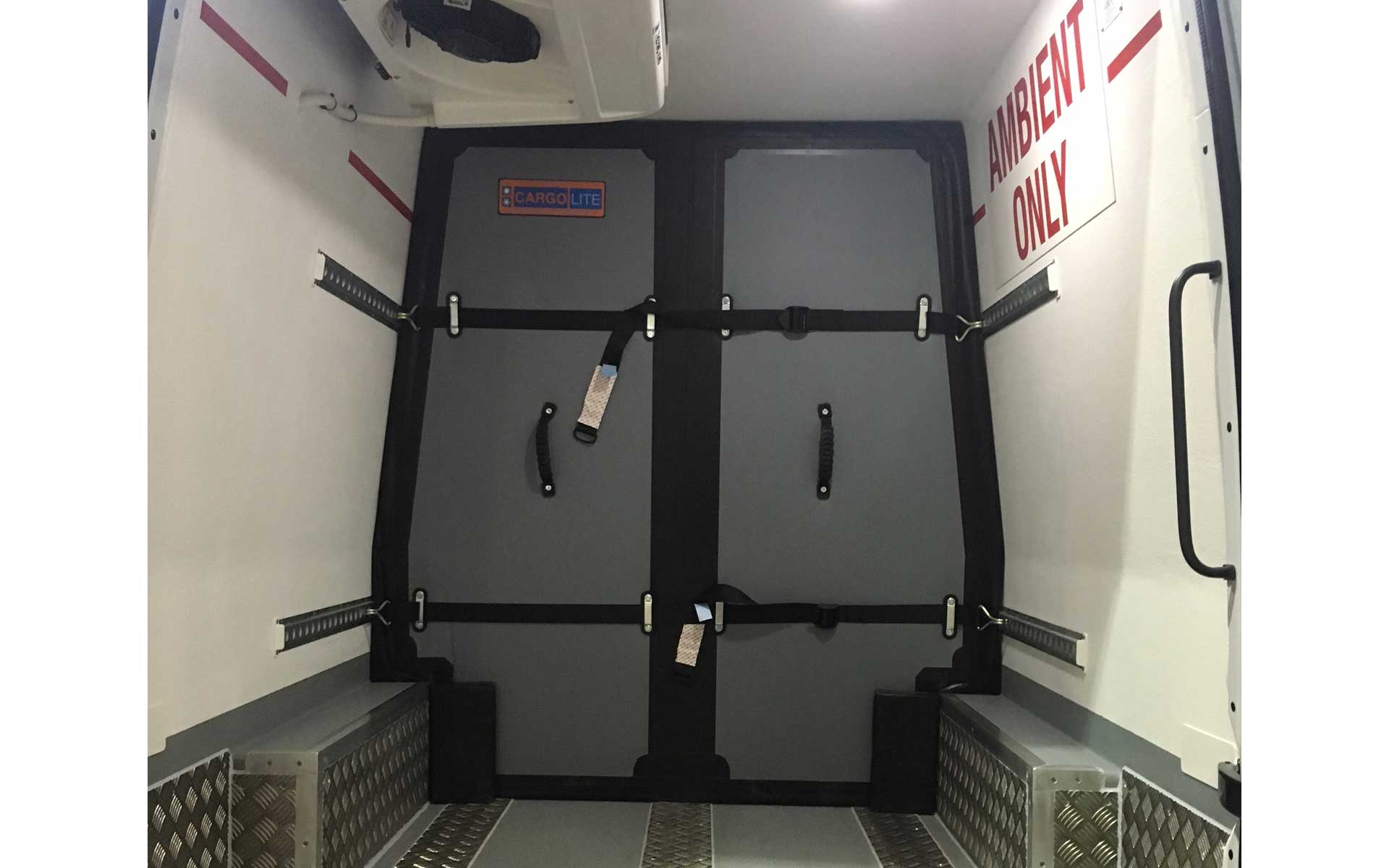 A chiller conversion van boasts the same 50mm thick insulation lining as the previous type of vehicle, but is also fitted with a chill refrigerator. Typically, these type of vans are able to achieve temperatures as low as 0°C, up to 8°C.
This is generally the most popular choice of van among a variety of businesses including florists, pharmaceutical companies and those transporting chilled food to be stored at 0°C or above – perfect for chilled meat and dairy products. The versatility of these vans makes it easy to transport a substantial load of produce, safe in the knowledge that they will be kept at the same, optimum temperature throughout the journey.
Semi-freezer conversion van
A semi-freezer conversion van is the perfect choice for those looking to transport frozen goods, something which a standard chiller conversion van won't provide. These vans are fitted with a slightly thicker 75mm insulation in the cargo area.
The freezer unit in these vans will allow a constant temperature as low as -10°C up to -15°C to be achieved, whilst also featuring a reverse cycle defrost – which defrosts in seconds by automatically reversing the action of the roof condenser and the evaportator – or hot gas defrost – which uses an injection of hot gas into the system to allow quick defrosting.
Full-freezer conversion van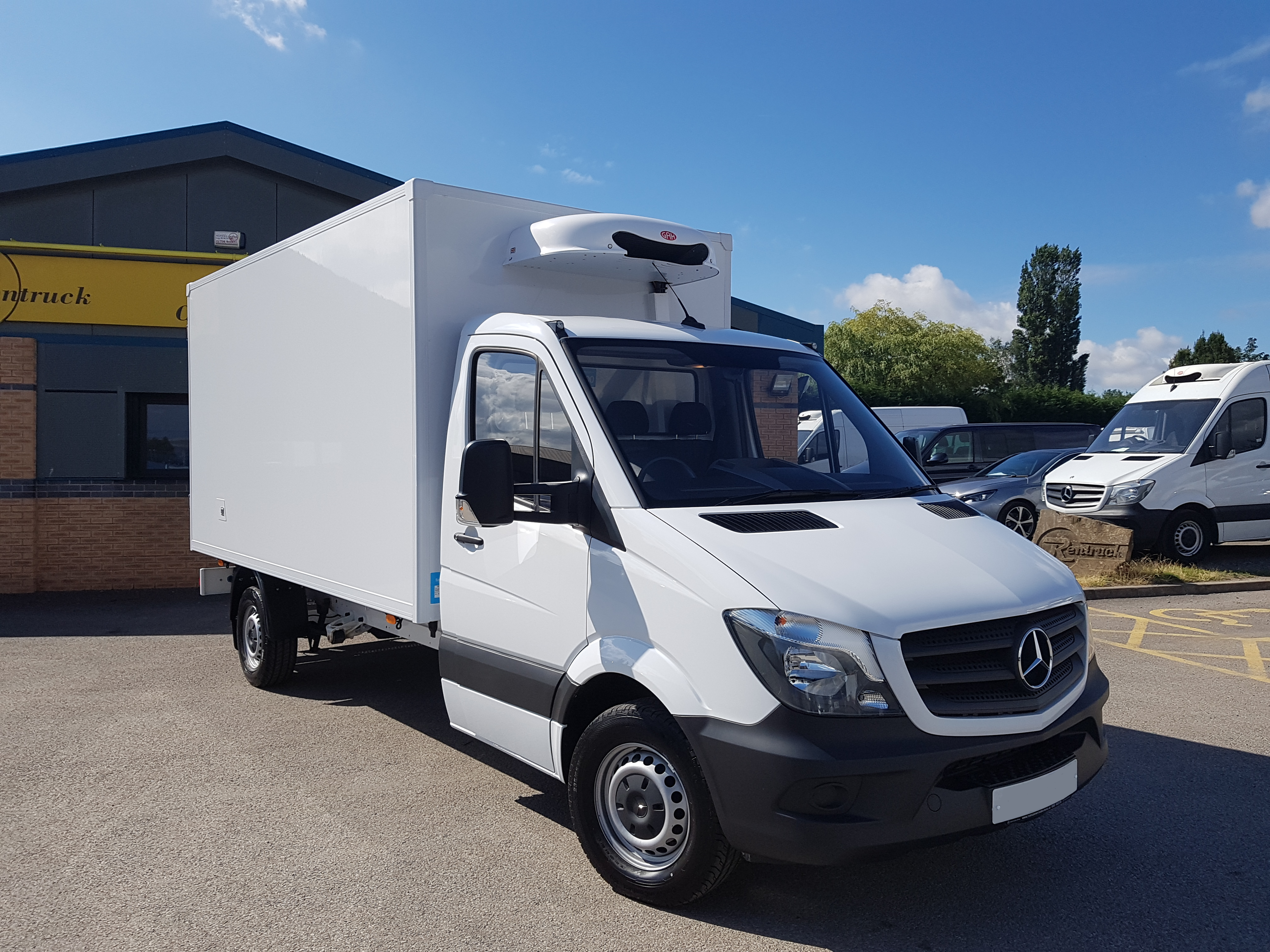 This type of van is perfect for those with specific freezing needs. Similar to the semi-freezer van, a full-freezer van has a thick 75mm lining, as well as either a reverse cycle defrost or a hot gas defrost.
However, the full-freezer conversion van also has reinforced side and rear doors, and the ability to keep products frozen as low as -20°C. Other full-freezer conversion vans can obtain temperatures as low as -25°C, but these will have a 100mm insulation, and a specially-made slab-type door as opposed to the factory sliding door on other vans.
Buying your refrigerated van
Now that we've covered the basics of the different types of refrigerated van – which may or may not have helped you decide which is best for you – it's time to decide whether you want to buy a van, or look into rentals.
If you're still unsure whether or not having a refrigerated van will be a profitable investment for your business, we'd highly recommend looking into options of hiring and leasing, before spending thousands of pounds on a van – they're not cheap!
Here at Cool Running Rental, we offer a great fleet of chiller and freezer vans for short and long-term hire and lease, depending on your requirements. We have plenty of customers who choose to lease our vans long-term as opposed to buying their own because all of our vehicles are late model, serviced and in great mechanical condition to give you peace of mind and cut out the hassle of having to do the checks yourself.
We provide flexible, bespoke quotes depending on your requirements and our expert team are on hand to help recommend the perfect van and deal to suit your business needs.
If you're interested, or want to find out more information, get in touch with us today.